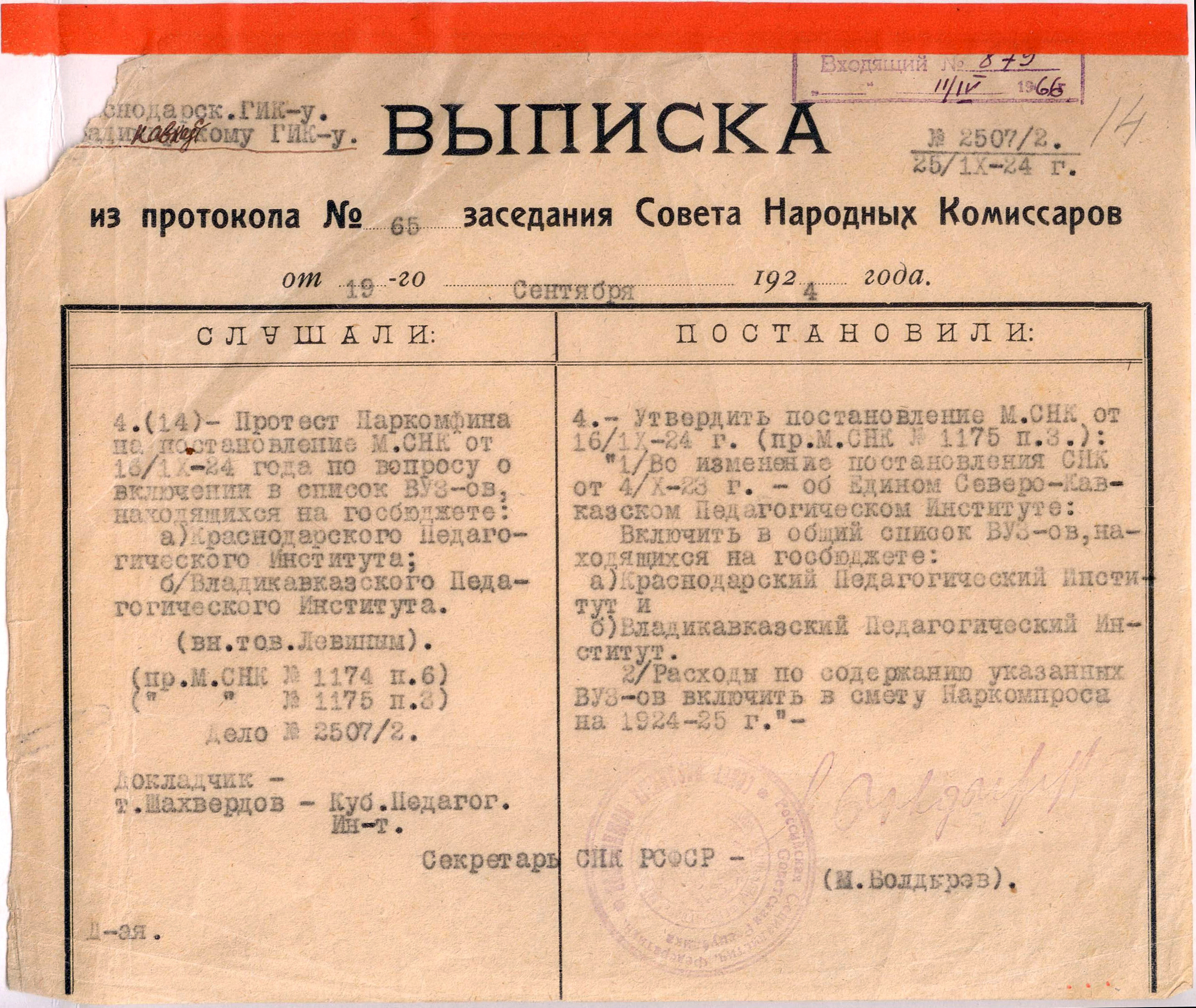 For the first time ever Kuban State University was opened in Krasnodar on September 5 (19), 1920. Its first elected Rector was a former General of the Imperial Army – a great scholar, a historian, an ancient palaeography specialist – Nikandr A. Marx. An Institute of Public Education was established at the same time as well. The famine and devastation in Soviet Russia led to the elimination of many universities, including Kuban State University. The students, faculty and staff of the University moved to the only existing institution of higher education – Institute of Education, later its name was changed to Kuban Higher Teacher's Training Institute.
On September 19, 1924, accordingly the Resolution of Public People's Commissars Council of the RSFSR Kuban Higher Teacher's Training Institute was among the other public pedagogical institutions, financially supported via the country's budget. Six academic departments were established in the Institute.
In 1931, the Institute was temporarily renamed as Kuban Pedagogical Institute of Agronomy, in 1933 – as Krasnodar State Pedagogical and Teacher's Training Institute named after the 15th Anniversary of Komsomol. In the late 40's, it already had another official name – Krasnodar State Pedagogical Institute named after the 15-th Anniversary of Komsomol.
On February 18, 1970 Krasnodar State Pedagogical Institute was reorganized into Kuban State University.
During its 100-year history, after a long and glorious path of a dynamically developing prestigious institution, Kuban State University made it possible to establish several independent schools, founded on its faculties. Therefore, in 1921 the Faculty of Medicine became the Medical Institute, in the early 70's the Faculty of Physical Education was reorganized into Kuban State University of Physical Culture, Sports and Tourism, the Faculty of Music Education – into Krasnodar State Institute of Culture. In 1988 Sochi State University of Tourism and Resort Business (today – Sochi State University) based on Sochi Branch of Kuban State University was established.